Children's Class – Ages 4-7
Our Children's class is 45mins aimed at children between the ages of 4 to 7. We focus on fundamental skills and confidence building with drills and games that will set your child up for success for the regular Taekwon-Do program. Our instructors have experience working with children on the Autism spectrum, children with ADHD and children of differing abilities. We are happy to work with parents and figure out the best mode of instruction for your child. Parents are welcome to participate in our classes too!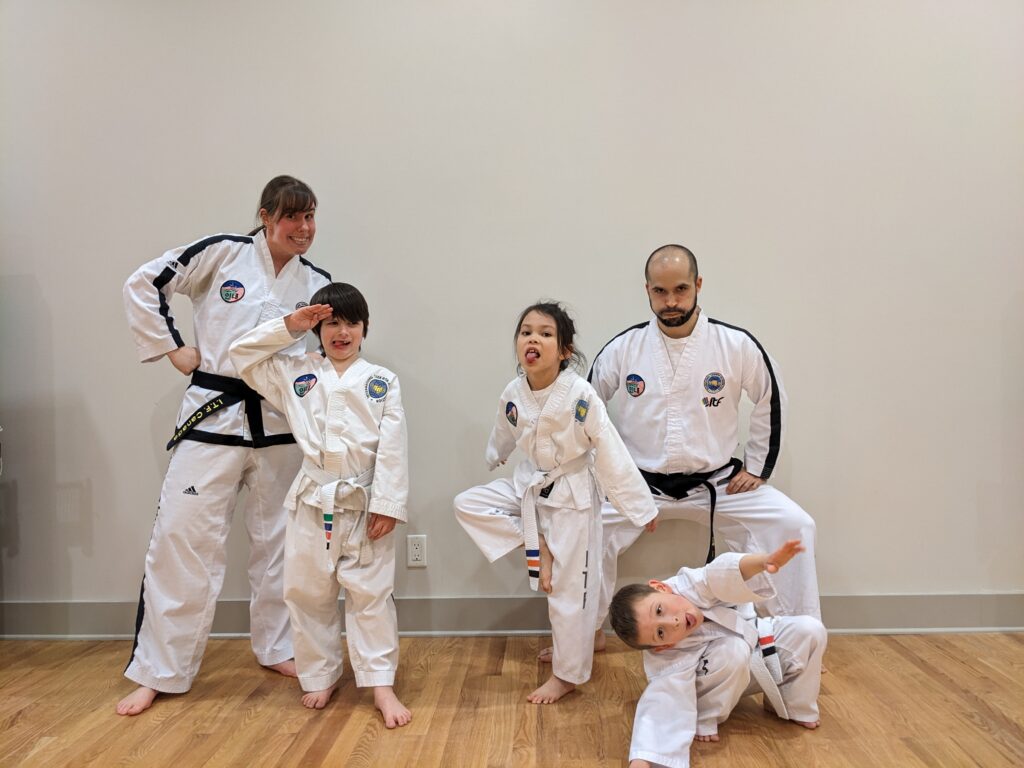 *New* Adapted Children's Class – Ages 5+
Does your child have a disability? Do you struggle to find activities that will include a high support kiddo? We are excited to announce our new Adapted Taekwon-Do class for children!
This class runs once a week on Saturdays and is meant for children with disabilities or special needs or who have higher support needs. This program will be at an adjusted pace and include a modified version of our standard kids' program, with a focus on building strength and body awareness through fundamental movements and games.
Our head instructor of this program Jordyn has experience working as a BI for kids with ASD and is passionate about inclusivity. Our other head instructor Steven uses his experience as a kinesiologist to assure that the activities we do in the adapted class are safe to perform for all ability levels. We will work with parents to get an in-depth understanding of your child's needs to best assist them in class. If this program sounds right for your child, please head over to our contact page, and send us an email.
Regular Taekwon-Do Program – All Ages
Our regular Taekwon-Do program class length is 2 hours total but many of our students stay for just the first hour, especially beginners and younger participants. Our school is affiliated with the International Taekwon-Do Federation, which standardizes all our techniques and keeps consistent rules for our sport throughout the world. Our classes include a mix of patterns and sparring drills, as well as improving flexibility and range of motion through specific exercises, and of course games and partner activities.